Safety light curtain
Active Optoelectronic Protective Devices
use an array of photoelectric beams to sense intrusion into a plane of detection, offering protection where a process may require open and frequent access. Type 4 / Category 4 curtains achieve high fault tolerance through redundancy/monitoring, have a tighter field-of-view and are therefore less susceptible to optical short circuits.
Safety light curtains
are presence sensing safety devices that detect the presence of obstructions within the light curtain sensing field. These Active Optoelectronic Protective Devices (AOPD's) are primarily used for machine guarding. Low cost, long warranty and quick delivery. Type 4 / Category 4, SIL 3, PLe. Made in USA.
Model SS Safety Light Curtains
Safety light curtain with no 3rd box or controller. Pylons are rated Nema 4 (IP 65) and has two monitored solid state PNP outputs. Mechanical captive contact (dry) safety relays also available. Input power is 24VDC. Complete system diagnostics, mounting brackets and connection cables are supplied standard. Type 4 / Category 4, SIL 3, PLe. Made in USA.
Model SS >>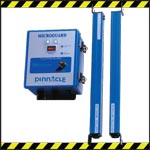 Model MG Safety Light Curtains
Safety light curtain with a free standing Nema 12 (IP 64) metal box controller and the pylons are rated Nema 4 (IP 65). Input power can be 110V, 220 VAC or 24 VDC. Excellent for free standing enclosure light curtain applications. Complete system diagnostics, mounting brackets and connecting cables supplied standard. Type 4 / Category 4, SIL 3, PLe. Made in USA.
Model MG >>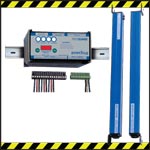 Model DR Safety Light Curtains
Safety light curtain with a DIN-rail mountable controller rated NEMA 1 (IP 10) for mounting into an existing control panel and the pylons are rated Nema 4 (IP 65). Input power is 24VDC.  Complete system diagnostics, blanking capability, mounting brackets and connecting cables are supplied standard. Type 4 / Category 4, SIL 3, PLe. Made in USA.
Model DR >>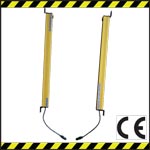 Model CE Safety Light Curtains (Global)
Designed to be supplied to any marketplace in the world. Light curtain with no 3rd box or controller. Unit is rated Nema 4 (IP 65) and has two monitored solid state PNP outputs. Mechanical captive contact (dry) safety relays also available. Input power is 24VDC. Complete system diagnostics, mounting brackets and connecting cables are supplied standard.  Type 4 / Category 4, SIL 3, PLe. Made in USA.
Model CE >>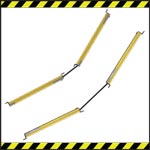 Model CA Safety Light Curtains
Cascading safety light curtains provide the user the ability to connect additional sets of light curtains by daisy chaining multiple emitters and receivers together rated Nema IV (IP 65). The cascading of safety light curtains provides multiple areas of guarding in any plane (X, Y, Z), while utilizing the control reliable dual safety outputs (PNP) from the Category 4 safety device for the safety outputs to the machine control. The ability to guard multiple areas on irregular shaped machines by cascading safety light curtains reduces wiring and provides a lower cost yet effective machine guarding solution. 24VDC input powered unit. Mounting brackets and connecting cables are supplied standard. Type 4 / Category 4, SIL 3, PLe. Made in USA..  Model CA >>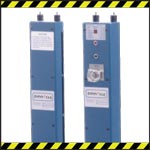 Model PPG Perimeter Guarding Safety Light Curtains
Free standing two pylon 110 VAC input power system with built-in monitored safety relays (dry). Multiple beam spacing options are available for arm and body detection. Model PPG is designed for perimeter guarding applications and incorporates latching safety relays (dry) with mounted manual reset button on the receiver pylon. Long scanning distances available. Type 4 / Category 4, SIL 3, PLe. Made in USA.
Model PPG >>
Compare all of our Safety Light Curtain Models Compare our Models >>