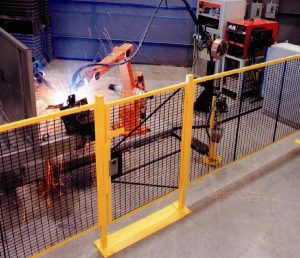 The Pinnacle Fencing System is ideal for protecting machinery and plant personnel. The guarding of welding machines, robotics, automated equipment, printing/paper finishing equipment, plastic molding equipment, packaging and wrapping, specialty equipment or any hazardous zone or area is easily accomplished with our fencing system. Our designs are engineered to comply with OSHA and ANSI Standards.  
We offer a large selection of wire mesh sizes, customized heights, sweeps, colors and finishes utilizing carbon steel. Stainless steel is also available. Also offered is a full line of hinge and sliding doors to easily integrate into your facility's layout and machine accessibility requirements. We stock a wide variety of safety interlocks if needed for your fencing application. To ease installation, we can pre-drill all holes in the doors, so your safety interlock installation time is minimized.
To round out your Total Safety Solution, we manufacture safety light curtains, safety mats and "control reliable" safety controllers which integrate effectively with our fencing system to provide additional guarding and protection. The Pinnacle Fencing System offers protection to keep your workplace and personnel safe and secure.
Electrical Design and Mechanical Layout assistance is available. Fax or email your layout sketch to: 
Fax: (412) 262-4055
Email: fencing@pinnaclesystems.com 
Phone: (412) 262-3950